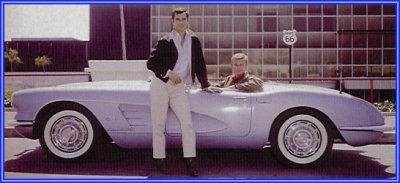 Corvette's and Route 66

Route 66 has been around longer than any Corvette, but the two have a lot in common, mainly due to a TV series in the early 1960s. Tod and Buzz drove their blue `61 Corvette all over the country, having one adventure after another as they sought to discover themselves and what life was all about.I have been fortunate to have driven on a good part of old Rt. 66 in Illinois and Missouri and the trip was great, but it would have been much more enjoyable if I would have had my Corvette at the time.

Filmed on location all over the United States, along the course of the famous highway (and beyond), Route 66 debuted on October 7, 1960. The premise was simple: privileged and sheltered Tod Stiles' dad dies and leaves him a few bucks, so he and his buddy Buzz Murdock (who grew up in Hell's Kitchen) take off in a shiny new 'vette to discover America. There were no other co-stars, just guest stars. The hour-long drama starred Martin Milner as Tod Stiles and George Maharis as Buzz Murdoch, two young guys who travel around in a 1960 Corvette convertible in search of adventure and enlightenment. Along the way they encounter a host of outcasts and ordinary people entangled in conflicts - eventually travelling to almost every city along the the run of the highway. It took a travelling crew of 50 people, two brand-new baby-blue Corvettes, two tractor trailers and other assorted vehicles to film this series, one of the largest mobile film operations in TV history. "Most of the guys don't like it because they're away from home too long", George Maharis noted in 1960, "but I love it because I'm a bachelor." The series itself was standard low-key television drama with occasionally exceptional scripts. It was the changing locales and personalities helped to keep things interesting. George Maharis played the stronger and more interesting character, with a street-wise sense that served as a counter-point to Milner's stiff portrayal. The scripts that centered around Maharis were usually more entertiaining, and would occasionally tackle controversial topics - racism down South and union busting up north for instance. Maharis was forced to leave the series due to a nasty case of hepatitis in November of 1962, well into filming the show's third season. He was replaced in March of '63 by Glenn Corbett in the role of Tod's new best buddy Lincoln Case. Maybe it seemed strange to everyone that Tod was traveling around the country with one guy for two and a half years and now he's coming 'round again with another, because the series went on for only another year after the switch. The focus of the show was shifted primarily to Martin Milner, the new guy was more of a supporting player. 'Route 66' produced many excellent hours of television featuring guest stars like Rod Steiger, Martin Sheen, Robert Redford, and young Robert Duvall in a fairly realistic portrayal of a heroin addict. In that episode it's revealed that Buzz had his own experiences with drugs in the past, probably the first regular TV character to make such an admission. There was a particularly good episode which aired on October 6, 1961, guest-starring Ethel Waters as a dying blues singer who asks Tod and Buzz to put together her old band for one last gig together. Some of the best jazz players around in 1960 make up the band in this episode, and the story centers around Buzz and Tod's search for the old timers through the jazz and be-bop clubs. Ethel Water's performance is a powerful one, and it earned her an Emmy nomination that year, the first such nomination ever for a black actress.
Route 66 was canceled in September of 1964 - as good as it was, the show may have lasted a few extra years just on the strength of the brilliant theme music by Nelson Riddle. Martin Milner went on to great success in 1968 portraying police officer Pete Malloy for 7 years on Adam-12, a Jack Webb show where his stilted delivery became an asset, and now he's a DJ in San Diego. George Maharis never had another successful series after he left this show, he starred in 'The Most Deadly Game' for a half-season in 1970 on NBC, that's about it.

October 7, 1960 - September 18, 1964
CBS Adventure Series - 116 Filmed Episodes

Cast:

| | |
| --- | --- |
| Tod Stiles: | Martin Milner |
| Buz Murdock: | George Maharis |
| Linc Case: | Glen Corbett |

Visit this cool Drive-In Theater Site!